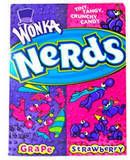 It's 4 am. Saturday even. Yet, I'm wide awake. I wake up just about every day at 4 am. That's when CNBC starts broadcasting the news from the European and Asian markets. The markets are not open on Saturday, but that doesn't stop my biological clock from getting me up. Besides that, it's just plain difficult to sleep these days. There's too much crap going on in Washington DC to enable most Americans to sleep well.
I made a very important discovery this morning and felt like I needed to blog about it. Grits. They're a staple in the south. I eat them often. They're pretty bland though. But this morning I discovered if you pour some candy nerds on top of hot grits, it's heaven on earth. Try it. It'll take your mind off all the bullshit that goes on in Washington DC where our dolt Republican Senator Richard Burr is getting absolutely nothing of substance accomplished.
Nerd Grits. Give them a shot. Thank me later.
North Carolina deserves better than Republican Senator Richard Burr.