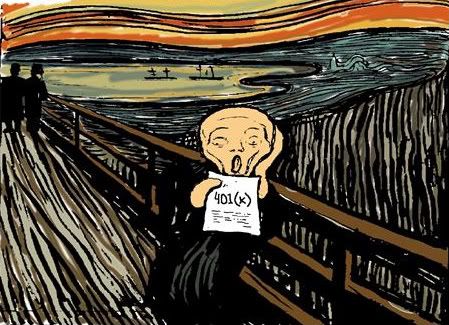 Brian
Ried
is out this morning with a very interesting
article
in the Wall Street Journal. You'll need a subscription to read the article. If you don't have one, find someone who can get you access and read this article. It's a very informative explanation as to what happened over the last decade to our federal budget.
As President Clinton was leaving office, our long-term federal budget projections showed a $5.6 Trillion SURPLUS from 2001 through 2011. It now looks as if the actual results will be a $6.1 Trillion DEFICIT. Brian takes a look at what caused this egregious $11.7 Trillion swing in our financial results. Was irresponsible financial performance driven by the Bush Administration and Republican control over Congress, or something else?
Put your thinking cap on while reading the article, then you decide. I don't agree with Brian. In future posts here I'll pick on his assumptions. I'll arrive at my own conclusion as to who and what caused this economic mess.
Here's the key paragraph I focused on:
"
The bulk of the swing resulted from economic and technical revisions (33%), other new spending (32%), net interest on the debt (12%), the 2009 stimulus (6%) and other tax cuts (3%). Specifically, the tax cuts for those earning more than $250,000 are responsible for just 4% of the swing. If there were no Bush tax cuts, runaway spending and economic factors would have guaranteed more than $4 trillion in deficits over the decade and kept the budget in deficit every year except 2007.
"
I'll have many more comments later about this article. But right now, this much I know for sure -
North Carolina deserves better than Republican Senator Richard Burr
.